Jaredus padaleckius or the Giant Pada-Sloth, is an example of charismatic megafauna, a term that refers to large animals that have widespread popular appeal.





DISTRIBUTION
The Pada-sloth or Jared as it is also known, is a native of Texas, although he is found up and down the West Coast of North America. He can be found as far north as Vancouver, and at least as far south as Los Angeles. Recent reports of a sighting in San Diego proved false, however he has been spotted on a number of occasions in the tropical areas of northern Australia.

HABITAT
The Pada-sloth spends most of his life hanging upside-down from Jensen Ackles; he eats, sleeps, mates, and plays PS2 hanging upside-down from the Ackles. They only rarely venture to the ground or walk on the ground in an upright position.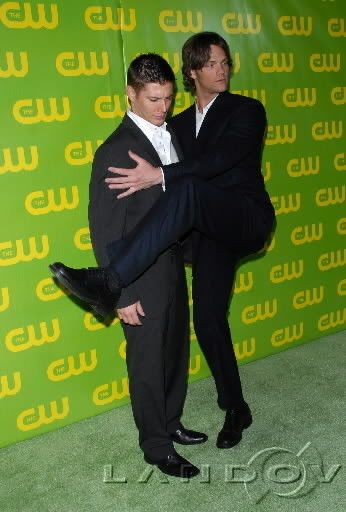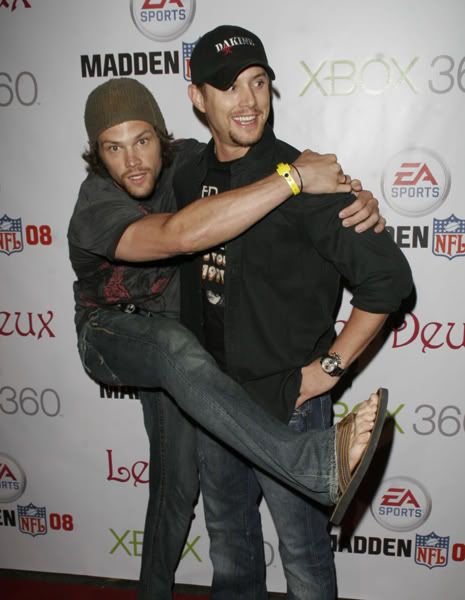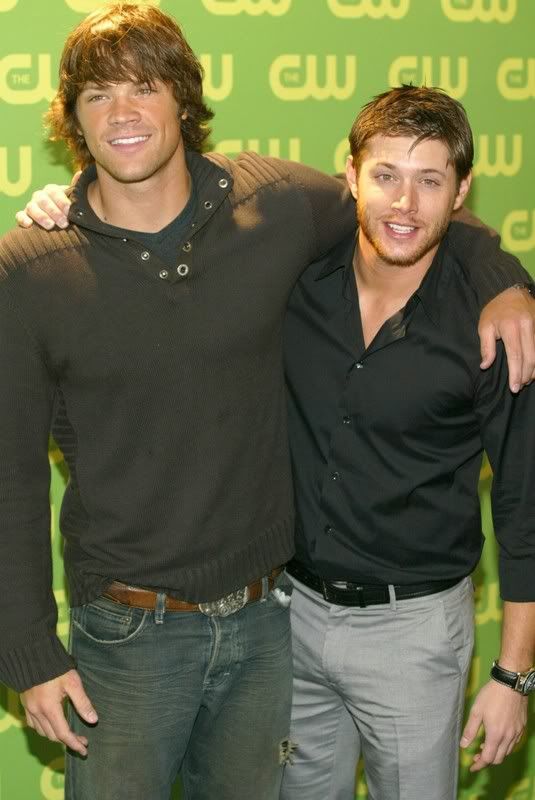 The Ackles is well-adapted to being inhabited by the Pada-sloth, and in fact seems to thrive on the relationship. Ackles spotted without a resident Jared appear listless and droopy, and unresponsive when questioned.
The Pada-sloth holds onto the Jensen with strong, curved claws that are on each of their four feet. Flip flops worn by the Pada-sloth protect Jensen from being lacerated by the razor-sharp claws.

Jareds are nocturnal; they are most active at night and sleep all day.
PADA-SLOTH ANATOMY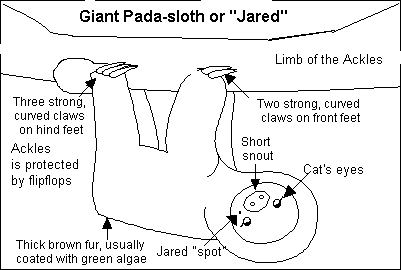 The Jared weighs as much as an African bull elephant, and when it raises itself to its full stature, he is about twice the height of an elephant, or about twenty feet tall.
Pada-sloths have the largest feet of any living mammal. Its feet are prehensile, that is they can manipulate and grasp objects. The Jared uses this ability for grooming, playing poker and sexual foreplay.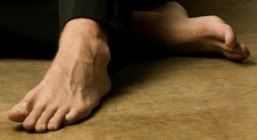 The huge claws on its feet affect the Jared's ability to dance, and doing so often results in painful mockery. While generally slow moving occasional bursts of quick movement are observed when food is in the vicinity. Jareds can only wear enclosed shoes for short periods of time, and so it usually wears flipflops which protect the Ackles, and allows the Jared to use its prehensile toes.

I

ts large deep jaw houses a long tongue, which is used to food into its mouth, and for keeping the body of the Ackles clean and stimulated.

J

areds have cat-like eyes and a small nose. They are distinguished by a small marking known as a mole or Jared "spot".

Compared to other primates, including male human genitalia, the penis of the Pada-sloth is remarkably large. Sometimes referred to as "cockzilla", it is both longer and thicker than that of any other primate both in absolute terms and in relative size compared to the rest of the body. The Pada-sloth has an observed preference to dress to the left.

HAIR
Jareds have a thick brown hair. Some have colonies of green algae encrusting their hair, particularly after long periods of partying. The vivid green acts as a camouflage at CW events, and provides some nutrients to the Ackles, who lick the algae while grooming the Pada-sloth. It has been hypothesised that the hair of the Jared may actually be sentient – while this is unproven, it certainly often appears to have a mind of its own






Occasionally the Pada-sloth wears its hair in small bunches called Pada-pigtails.




DIET
The Pada-sloth eats fast, they eat a lot, and they spend about 12 hours a day doing it. The Jared eats roots and leaves, especially when in a hurry to return to its Ackles.

Its elegant and dextrous hands can rapidly, although not always accurately, transport food into the mouth. A growing Jared may consume the equivalent of its own body weight in food per day. Food that is spilled by the Jared plays a vital role in the nutrient cycle if the local ecosystem.

A small Pada-snack:
NAME
The Pada-sloth gets its name from one the seven deadly sins. This is because anyone getting within close proximity of the Jared, is suddenly filled with an overwhelming desire to commit the other six sins with him immediately – and repeatedly. Jensen Ackles is, of course, one of the seven heavenly virtues.

PREDATORS
Pada-sloths have no natural predators other than fangirls. A sloth's main forms of protection is its camouflage (greatly increased by the coating of algae growing on its fur), which it often enhances by the application of a cunningly worn hat that renders it totally unrecognizable.
The Chad is not a predator of the Pada-sloth, but can lead him into dangerous situations.
The Pada-sloth: Almost impossible to recognised when camouflaged. Note the green tinge to its colouring.