Thanks to
nomelon
for the heads up on this hilarious vid in which Castiel is OBSESSED with Dean.
Yes the source for these
casting spoilers
is imdb...so take that as fair warning.
but here's hoping because it would be so awesome.
So headed off for a walk today. It was warm, although there were some dark clouds in the distance.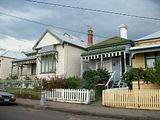 I've been taking pictures around my neighborhood. This is my street. One day I will bore you all with a history of the area.
Decided to stop for a latte before heading down to the river for proper walk. This is my dog Jack looking resentful. He is not a cafe cocker.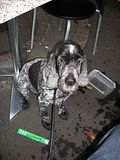 The the HUGEST FUCKING HAILSTORM ever started. No warning. No rain first just suddenly hailstones the size of marbles. And then torrents of rain.
The pictures don't convey the intensity of it - the sound of hail on cars, and the thumder. The smell. Behind the car you can see some yellow. That's the patio umberella from another cafe blowing along the road. The leaves were just shredded off the trees. The dog and I took sanctuary in the cafe.
Then it started RAINING INSIDE THE CAFE. The hail must've blocked the guttering and within 5 minutes this started. We ended up with about 5cm deep of water on the floor.
Lasted about 20 minutes although tis still raining/thundering. No flooding at home luckily. Dog and me very wet. Cuppa tea and watch Caprica now