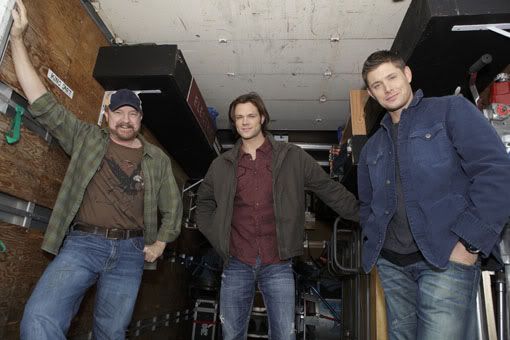 They make me smile.
source - CW publicist
It's the time of year for lists and I thought I'd do one on the minor characters and guest stars who I've found memorable this year. A collaboration between great writers and wonderful actors, these are the characters who grab the spotlight whenever they appear.
I'd love to know of any that you love too.
Sam Adama - Caprica
A tattooed assassin married to a guy called Larry, Sam stole every scene he was in. His intense angsty relationship with brother Joseph was up there with the Winchesters for family fucked-upness. The scene of him on a killing spree with Cylons was a classic. Actor Sasha Roiz is a delight on Twitter, recently twitting this 'fake' deleted Thanksgiving scene "Sam teaches nephew Willie how to carve a turkey...First take off your shirt." Also recently revealed he's been wearing Sam's Fedora and leather jacket to auditions.
June Stahl - Sons of Anarchy
In amongst the hard and violent men and women of SAMCRO, FBI Agent Stahl was the most cold hearted of the lot. Ally Walker imbues Stahl with a sharp-edged humour and vulnerability that like all the characters in this show draw you to her, even when she is at her most evil. Like Adama, her queer sexuality is incidental to the character arc, and all the more notable for that.
(
Collapse
)